Beer and Littlejohns Families in North Devon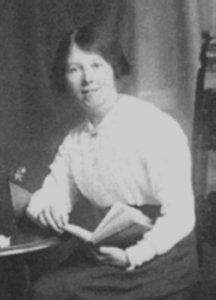 Mary Ellen Beer (1889-1970)
The surname Beer occurs in many parts of Devon, one branch of the family being well represented in Hartland, North Devon. Mary Ellen Beer married William Stanley Prince in 1920 at Clovelly.
Mary Ellen was one of twelve children of John Beer and Annie Littlejohns, and an unbroken line can be traced back to Edmund Beer, whose children were born between 1698 and 1709. Other families associated with the Beers include the Colwills, Mary Colwill marrying Thomas Beer in 1853. Mary's earliest recorded ancestors are John Colwill and Ann, whose son Thomas was born in Hartland in 1783.
Other names connected with the family were Susannah Ashton, who married William Beer in 1776, she was the grand-daughter of Diggory Ashton and Margaret Mugford. Also, William's parents were William snr. and Peternell Bragg, who married in 1753 at Hartland.
Annie Littlejohns (1863-1902) married John Beer in 1882. Although Littlejohn(s) is a common name in Hartland, Annie was actually born in Parkham, and her ancestry can be followed back through Shebbear to Edward Littlejohns and Lucia Edmonds who married at Sheepwash in 1766.
The list contains most of the names in my wife's Beer pedigree. The locations in which the family is mainly found include Clovelly, Hartland and Shebbear in North Devon.
Click here to download the list, in the form of a .pdf file.
If you find any links, please e-mail me.

Back to The Eight Families