The Brown Family of North Shields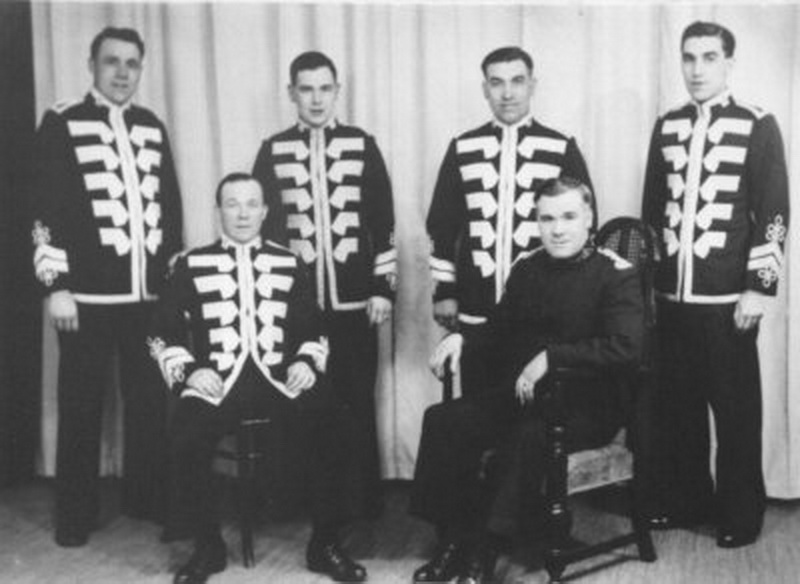 Six brothers in the North Shields Salvation Army Band in the late 1930s
This particular family can be traced back to the marriage of Robert Brown and Elizabeth Dunn in 1752 at Kirkby Ravensworth, North Yorkshire. Subsequent generations moved slowly north, for example their grandson, who married Jane Trewhitt in 1834, was born in Smallways. Jane's ancestry has been traced back to Benjamin Trewhitt and Jane Hird, who married in 1765, at Appleton, Yorkshire.
Joseph Brown was a shoemaker, and he and Jane lived in Barnard Castle, Durham, where their sons Joseph Benjamin and George were born. Joseph jnr. was also a shoemaker, as was his son James Austen Brown, whose middle name was derived from his mother Susannah's maiden name. James Austen moved to North Shields where he set up his own business. The story of his service with the Tyneside Scottish batallion during World War 1 is told elsewhere in this Web Site.
James Austen Brown married Margaret Gibson, and they and their six sons and one daughter were stalwart members of the North Shields Salvation Army, all the sons being bandsmen in the period before the second World War.
...
The Ancestry of Susannah Austin
Although she married Joseph Benjamin Brown in Barnard Castle, Durham, Susnnah Austin was actually born in Thundersley, Essex, in 1845, the eldest daughter of John Austin and Elizabeth Heard. John's was a bargeman, presumably on the Thames, and it is not know why at least one member of the family should have moved north.
Susannah's ancestry can be traced back to John Austin and Susanna, whose children were born between 1736 and 1752, at New Maldon, Essex. There are a number of second marriages involved, which has complicated the search a little.
This list contains most of the names in my Brown pedigree. The locations in which the family is mainly found include North Shields in Northumberland, Barnard Castle in County Durham and Gilling in North Yorkshire. The Austin family were from Essex.
Click here to download the list, in the form of a .pdf file.
If you find any links, please e-mail me.

Back to The Eight Families