The Gibson and Armstrong Families of Northumberland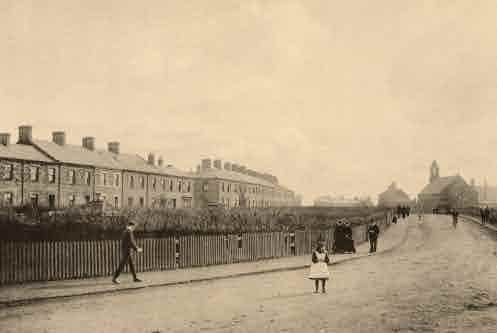 Gibson Street, Newbiggin, built by my great-grandfather
William Gibson
Margaret Gibson's ancestry has been traced back to Barnabas Gibson, born in Stamfordham, Northumberland, in 1759, and his second wife Ann. Barnabas was probably the son of Thomas Gibson and Jane Nicholson. Barnabas was a stonemason, as were most of his descendants, and one of his great-grandsons, possible Ralph, was responsible for building a row of cottages in Newbiggin, called Gibson Street, at the end of the 19th century.
The family lived in Newbiggin for a number of generations, and several branches can be traced through Parish records and Census Returns. Ralph Gibson's (1850-1920) mother was Isabella Armstrong , a member of a large family of mainly fishermen, resident in and around Newbiggin. Isabella's line has been traced back to George Armstrong (1698-1763) and his wife Jane Michal. The Armstrongs were mainly fishermen, and some were lost as a result of accidents at sea.
This list contains most of the names in my Gibson pedigree. The location in which the family is mainly found is Newbiggin in Northumberland.
Click here to download the list, in the form of a .pdf file.
If you find any links, please e-mail me.

Back to The Eight Families