The Orchard Family of Dorset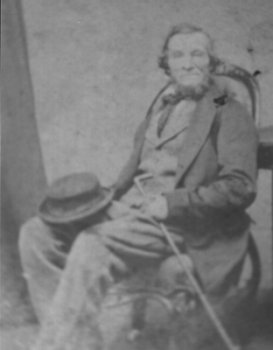 John Orchard (1825-1892)
At least one large branch of Orchards in Dorset can be traced back with some certainty to the marriage of Robert Orchard and Anne Steventon at Winfrith Newburgh in June 1694. Several generations of their descendants lived in or near Winfrith Newburgh throughout the 18th and into the 19th Century, with cousins who had moved westwards to West Knighton and Broadmayne, where Joseph Orchard married Mary Bullock in August 1793.
One of Joseph and Mary's sons, John, moved to Chickerell, and from them are descended many of the Orchards who can still be found in Dorset today. A descendant of John's, George Orchard, moved to New South Wales, Australia, in about 1876, and many of his descendants still reside in the State.
Another of Joseph and Mary's sons, William, had several children, and eventually moved a few miles to Preston. It was here that the family were living in 1847 when William was accidentally killed by falling down a service shaft above the railway tunnel which was being cut through the Ridgeway between Weymouth and Dorchester. William's son John, married Mary Hallett, another name common in Dorset.
William's grandson, William George, served for a time in the Royal Navy, and his story appears elsewhere on these pages.
William George had several children, including Charles, who spent most of his working life as a civilian in the Portland dockyards, eventually becoming chargehand rigger, one of the highest civilian grades. His son, Harold, was a Spitfire pilot during the Battle of Britain, and his story is told here.
This list contains most of the names in my Orchard pedigree. The locations in which the family is mainly found include West Knighton, Broadmayne, Preston, Wyke Regis, Winfrith Newburgh and Weymouth in Dorset. The Hallett family are also found in Winterborne Came.
Click here to download the list, in the form of an .rtf file.
If you find any links, please e-mail me.

Back to The Eight Families