The Seward Family of Chardstock, Devon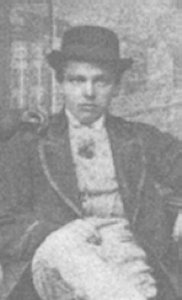 William Seward 1842-1928
The name Seward (Seaward) is common in Chardstock, and occurs almost at the start of the Parish Registers, which record the baptism in 1620 of "Henrie, son of George and Elionore Sewrad". Unfortunately, it has not proved possible to establish a certain link between this family and some present day Sewards, as there are a number of individuals with the same name, born at about the same time in the 1730s, and this has caused difficulties when drawing up pedigrees.
The line in Chardstock can be traced back with reasonable certainty to Joseph Seaward and Thomasin Turner, who married in Chardstock in 1648. John's family can be traced back further in nearby Colyton to a Robert Seaward born in about 1562.
More recently in 1770 Robert Seward married Mary Hawkins, and their eldest son, also Robert, married three times, his third wife being Jane Kingstone. Their youngest son, William (pictured above), had no less than eleven children between 1862 and 1886. Their youngest daughter, Nora, died in 1990, aged 104. William's wife was Elizabeth Emma Henley, daughter of William Henley and Elizabeth Newbery. The Newbery family (spelt in various ways) were another long established family in the area, and Elizabeth's ancestry can be traced with some certainty to Nicholas Newbery and Agnes, whose children were born in the 1720s. Nicholas died in 1750.
The other major family linked with later Sewards is that of Henley, mainly from Stockland.
This list contains most of the names in my Seward pedigree. The location in which the family is mainly found is Chardstock in Devon.
Click here to download the list, in the form of an .rtf file.
If you find any links, please e-mail me.

Back to The Eight Families