As stated in the previous chapter, John and Maria's family consisted of a daughter and a son, Charlotte born in 1860, being baptised on 2nd September, and William Burman born on 6th July 1862. William Burman was not, however, baptised until he was a year old, on 12th July 1863. The appearances of the two children in the Censuses for Clovelly have been outlined in the previous chapter.
William also makes an appearance in 1885, in a report in the North Devon Journal Herald of 23rd April, which reads:
A Silly Trick
Wm. Prince and Wm. Jewe11 were charged with obstructing the highway at Clovelly on 30th March last. P.C. Kellaway stated on the day named he found a net stretched across the highway just above the Reading Room about 8 p.m. It was right across from hedge to hedge and was touching the ground. John Oke, a boy, stated that he saw defendants hang the net across the road, 'just for a lark' , not for any purpose. The defence was that though the net was tied up it was fastened up high and would not have injured anyone. Fined £1 3s, each defendant to pay half.
Another incident reflecting William Burman's nature was when he once sailed his fishing boat through the Black Church Rock, off Mouth Mill, something no-one was ever known to have done before.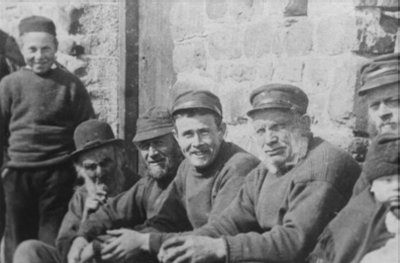 William Burman Prince is in the centre of this group
of Clovelly men
William married on 17th March 1887. On his Marriage Certificate his occupation is given as Sailor and his residence as Bideford rather than Clovelly. In fact, from the day he married until his death, he lived at No.10 High Street, Clovelly. His wife was Annie Passmore Paddon, the daughter of Richard Paddon and Mary Passmore. Annie was born in 1861, being baptised at Portledge on 31st May. The Paddons were a long-established North Devon family, originating in Frithelstock and Parkham. Annie's father was a Master Carpenter. In 1861 he was living at Parkham, having been married for only a few months, but by 1871 had moved to Wrinkleberry. In 1881 his address is given on the Census as Slerra. By 1910 he was living at 2, Mount Pleasant. When he died in 1922 he left a considerable sum of money to his daughter Annie.
One lasting piece of Richard Paddon's work was the small sliding door on the Lifeboat House. Records kept by the RNLI Headquarters Library at Poole show that as a result of an incident involving a scramble for life jackets during an exercise, the District Inspector and Local Committee decided, on 17th February 1904, that congestion would be reduced if a small door, at that time hinged, was altered to slide open, and on April 13th the records show that Mr R Paddon's estimate of £3 for the work had been accepted.
Charlotte married Jonathan Greenway, a coastguard on 11th May 1892 at Clovelly. Their first two children, John and Annie Louise, were born in the village in 1893 and 1895 respectively. The family then moved to Watchet in Somerset where Arthur was born in 1896. The next son, William, was born in Westward Ho! in 18998, and the last child, Fred, in Minehead in 1901. Charlotte died in Williton, Somerset, in 1906, and Jonathan in Watchet in 1927. At the time of his death, Jonathan's address was The Square, Swain Street, Watchet.
Of their children little more is known of Annie, William or Fred. Arthur emigrated to Portland, Maine in April 1913 and later moved to Canada. He served in the Canadian Infantry in France during World War 1 and was killed on 20th October 1916. He is commemorated on the Canadian Memorial at Vimy Ridge. John married Florence Morgan in 1918 and moved to Wales. He died in 1967. Some of his descendants now live in Australia.
It has been said previously that after about 1860 it is extremely difficult to trace a man's career in the merchant navy, and this is indeed the case with William. So far only three of his ships are known for certain, the DOLORES (see note below), the WANDERER and the MORVEN. The evidence for his service on the first ship comes from a photograph of him with the rest of the crew. The picture shows that the ship belonged to the R.D.Y.C.' (which may stand for Royal Devon Yacht Club) and from his uniform it appears that William was one of the ship's officers rather than an ordinary crewman. According to Lloyds Shipping Register of 1898 the DOLORES had been built (as the AMPHITRITE) in 1887 by Camper and Nicholson at Gosport. She was a ship of 101 tons, l00ft. long, and registered at Plymouth. She was owned by Mr. A.W.S. Hitchman of Wallingford.
The crew of the DOLORES
The MORVEN was a privately-owned vessel, what would now be termed a yacht in the non-racing sense, and William served on her in the capacity of Mate. The Lloyds Register shows that she was built in 1895 by Connell & Co. of Glasgow. The MORVEN was a fairly large vessel, being 344ft in length. She was owned by the Steamship Morven Company, and registered at Glasgow.
The WANDERER, also a privately owned vessel, was, according to Lloyds Register, owned by Macheca Brothers and registered in New Orleans. She had been built in Philadelphia in 1879, and was a steam powered vessel of 531 tons gross weight, being 157ft. long. William held a senior post on this ship, as a letter has survived, dated 4th November 1902, signed by the Master, T. Spriddell and addressed 'S.Y. Wanderer, Brooklyn, U.S.A.'. The letter reads:
I have great pleasure in certifying that Mr. William Prince served as 2nd Officer on the above named yacht from Oct 25 1901 to the present date, on a cruise to the West Indies, Mediterranean, Baltic, Norway, and adjacent coasts, and back to New York, and gave every satisfaction, and is now leaving because the said Yacht is laid up.
Whether this was William's last ship is not known, but he settled in Clovelly soon afterwards. During his service as a merchant seaman he and Annie had been blessed with four children, although sadly the third, Arthur, had only lived a few months, being baptised on 23rd February and buried on 12th December 1892. The other children were Laura, born in 1888; William Stanley, born in 1889; and Bella, born in 1893. Another daughter, Marjorie, was born in 1906, which may have been after William left the sea.
The Clovelly Cottage Rent Books show William Prince living at No.10 in 1901, when his annual rent was £11. The Hartland Chronicle published a '1906 Directory of Clovelly' in April of that year, and this also shows 'William Prince, Mariner' residing at No.10. At around this time Annie Prince was running a small tea-room on the premises, although this is not shown in the Directory. They were at the same address paying the same rent in 1914. By now William Burman was a member of the Lifeboat crew, and earned his living as a fisherman, although when his son William Stanley married in 1920 he was shown on the Marriage Certificate as still being a Mariner.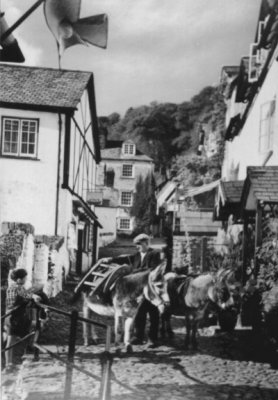 Clovelly High Street. The flagpole is outside No.10
There are two instances of the Lifeboat being launched which have resulted in printed accounts mentioning William Burman.
On 28th February 1918 the schooner EMILY of Padstow got into difficulties in a heavy storm off Clovelly. The ELINOR ROGET was launched and assisted the vessel into Appledore. As a result of this the lifeboat crew claimed £300 salvage, but this was refused by the owners, their defence being that the captain of the EMILY had only asked for a pilot, and not any other form of assistance. A hearing was held at Barnstaple County Court on 16th April, and amongst other witnesses were Richard J.Cruse and William Prince. The Court found in favour of the Lifeboat, although they were only awarded £100 salvage money.
On 1st January 1919, whilst the Clovelly Mariners' Union Society were holding their New Year's dinner at the New Inn, the festivities were interrupted when a local fishing boat was seen to be in difficulties in rough weather. The ELINOR ROGET was again launched, William Burman being the bowman. Despite an exhaustive search, no trace was found of the boat or men, and the Lifeboat returned to harbour. Four of the crew were relieved, Richard Cruse being one of the men taking over. Unfortunately nothing was found, and Frank Badcock and William Harding both lost their lives. The fishing boat was later washed ashore at Westward Ho!
William Burman Prince died on 28th December 1934, aged 71. His wife survived him by fourteen years, dying on 9th October 1948, aged 87. The couple share a common headstone in Clovelly churchyard.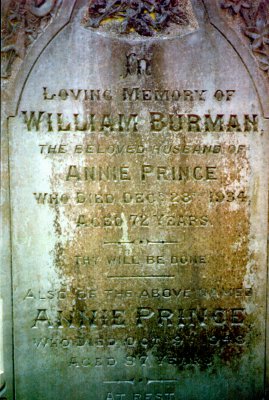 NOTE: The Dolores has been restored by a German team and is now in use, as the Amphitrite, by them. For a picture gallery click here.
...

Back to Chapter Index